Welcome to the Holy Chow website!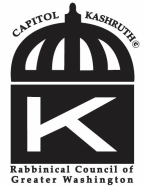 If you like Chinese food, keep kosher and live in or are visiting the DC metro area then you are in for quite a treat.
Store Hours Sunday - Thursday: 11:30 am - 8:30 pm Friday: 11:30 am - 2:30 pm
We will be closed on Monday September 26th and Tuesday September 27th in observance of the Jewish New Year. We will reopen regular hours on Wednesday September 28th. Shana Tova!

NOW AVAILABLE:
Shawarma and Falafel with pita, salads, and sauce. Check out the Middle East category on our online ordering or call the store for more details. Falafel is Pareve, Fleishig equipment.