- "The finest (and only) kosher chinese restaurant in the Washington, DC metro area."
Welcome to the Holy Chow website!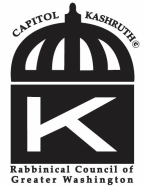 If you like Chinese food, keep kosher and live in or are visiting the DC metro area then you are in for quite a treat.
We will be closed from Wednesday April 8th through Thursday April 16th in observance of the Jewish holiday of Passover.
We will reopen on Friday April 17th.

Note: Since we close at 2:30 PM on Fridays, we recommend calling in your Friday orders earlier in the week, if possible. We look forward to serving you.