Blog
Status Update: 3/27/2018
Wow. Just wow. It's really been an insane three weeks.
As some of you might have heard, our first day was off the chart bonkers. We had such enormous demand that we plowed through two days' worth of food in under 8 hours, had to shut down online ordering at around 6:00 PM and then halt all phone and walk-in orders 2 hours later. The following day, we had to open at 5:00 PM just to get new food shipments in so we could prepare for the evening rush. Crazy stuff.
With all the excitement going on I've obviously had very little time to update everyone on our progress and answer various questions/concerns people have raised so I'm going to try and use this post to do just that.
First, the phone issue:

People have made it VERY clear that they are having difficulty trying to call the store to place orders. This is indeed a very big problem and unfortunately it is one that will not be fully addressed until the week we are closed for Passover.

The fundamental issue is that we wanted to keep the existing Chin and Lee phone number so that we could field phone calls from existing customers. But we also wanted to leverage technology to the best of our ability. Google voice has the ability to transcribe phone calls and store them as email messages, so we can keep an archive of all our communication and also run statistical analysis on the data gleaned from the messages and even search the content. We ported the old number to Google Voice and got two new landline numbers from Comcast*. After we got the phone numbers we configured Google Voice to forward calls to those two numbers, so we could speak with more than one customer at a time. We then added two additional numbers a week later to expand capacity.

Sounds pretty straightforward right? The problem is that Google Voice doesn't work exactly the way we thought it would work. We tried configuring it two different ways.



The first was having the Google Voice line ring on all 4 of our Comcast numbers but that didn't work because as soon as someone picked up one of the phones, instead of the next incoming call ringing on one of the other 3 lines, it just went to voicemail.
Next, we tried configuring our Comcast numbers to use rollover, which allows someone to call one number and if that line is busy, it rings the next number. In this configuration we figured that instead of Google Voice calls going to all 4 of our numbers we could just have it ring on our primary number and if that number was busy it would rollover to one of our other numbers and so on and so forth. Unfortunately, this did not work either.


At this point it appears that our only option is to port our Google Voice number to Comcast and then setup the rollover feature directly through Comcast. Obviously, this task involves quite a bit of tinkering around and is not something we want to do while we're open in case something goes wrong and we either lose our main number in transition or it gets tied up in some weird in-between state where we can't use it for any extended period of time. In addition to all the aforementioned issues, the phone lines have been ringing off the hook and unless we were to hire a whole team of people just to answer phones, it would be near impossible to field as many calls as we've been getting. I hope that clears things up a bit.

Note: In case you were wondering, we went with Comcast instead of Verizon because Verizon only offers DSL speeds from the 1990s and Comcast offers true high-speed internet.


The next issue I want to address are the long wait times and shutting down online ordering.

Our first day was pretty much a free-for-all. We let everyone order anything they wanted for anytime they wanted using any form of communication they wanted: phone, web or in-person. It didn't matter. This turned out to be a huge mistake.

As many of you may have heard, we plowed through two days of food in under 8 hours. The following day we had to open up at 5:00 PM in order to get new food shipments in and have enough time to prep all of the various items on our menu in time for the evening rush. We sold out of food again by Thursday morning and had orders booked for the remainder of Thursday and Friday.

So the first thing we had to do was shut down online ordering because unlike phone and walk-in, we can't control the onslaught of online orders. It was just nonstop orders hitting our system and there was just no way that we were ever going to be able to fill them.

What we learned from our first day is that our store can only hold a finite amount of food, we can only get food deliveries so many times in any given week, our kitchen can only be equipped with so many woks, deep fryers, soup bowls, rice cookers, sinks, containers etc. and our kitchen staff can only cook so much food within a given time period. Also, we can only have so many people in the kitchen and working at the counter with only so many phones and phone lines available to field calls. That's just how it is. If you go to a movie and all the seats for the 6:00 PM, 7:00 PM and 8:00 PM showings are sold out, while it might be frustrating, most people understand and accept this reality. For some reason, when it comes to food, all logic goes out the window. Maybe it's low blood sugar or living in a world where you can get most things when and how you want it. Regardless, that is just how things are and we are truly very sorry.


The final issue I want to address is why it seems like, despite calling the store at 11:30 AM, we can never fill any orders until 8:00 PM at the earliest or even as far out as 1-2 days later.

While this issue seems to be somewhat similar to the second issue above, I feel that it deserves its own bullet point in order to highlight some very important concepts.



We are the newest and ONLY kosher Chinese food establishment from Atlanta to Baltimore and are servicing the third largest Jewish population in the country. On top of everything else, the anticipation and pent up excitement for our restaurant to open is like nothing I've personally ever seen before -even in the non-kosher world.
After our grand opening debacle, we decided to scale back and figure out how many orders our kitchen staff could fill in a given hour and then, as we refine our process, become more efficient and hire more staff and increasing that number to something reasonable -with the understanding that the restrictions mentioned in item #3 above still exist and are unlikely to change anytime soon.
Many people have realized just how high of a demand there is for our food and have wisely started to put in their orders in advance -often WAY in advance. Using this strategy, we've had many repeat customers. In fact, more than 50% of our orders come from repeating customers. We understand that not everyone can plan meals so far in advance, at the moment this is the only way to guarantee that you're order will be filled on time.
I hope this clears things up and once again, thanks to all of you for your support.
-Ami
---
Status Update: 3/5/2018
Before our official grand opening tomorrow (yes, tomorrow) I want to clarify a few things about the Holy Chow GoFundMe campaign which took place last fall. Over the course of the last few weeks I've had several people contact me after finding out that they would not be able to use their initial GoFundMe prepay credit during the soft opening and I figure now would be a good time to set the record straight regarding when prepayments are redeemable, how they can be redeemed and why they can't be redeemed immediately. Please understand that there was no ill intent with this campaign. We weren't trying to be underhanded, deceitful, misleading or trying to pull a "bait and switch".
When:
The language on the original GoFundMe website was extremely clear and highlighted in
BIG RED BOLD CAPS
that the purpose of this campaign was to help us raise some capital to offset initial expenses during our first few months of operation and that all prepay participants would be eligible to redeem the vouchers
six (6) months after opening
. We also promised that, in the event this venture fails to launch, everyone's money would be refunded in full and that the 2.5% GoFundMe processing fee would be our responsibility.
Why:
The whole point of this prepay approach was to show good faith between
"us"
, the hopeful restauranteurs, and
"you"
, our future customers. My wife and I, along with several other extremely intelligent, wonderful, caring and passionate people, have invested upwards of $200,000 in order to get Holy Chow up and runnning and this campaign was meant to show your commitment to supporting us once we open and for many, many years to come. Even as we continued accepting prepayment on our website following the termination of the GoFundMe campaign, we still had the same language about when the vouchers were redeemable. The fact is, that if we let one person redeem their voucher now, then we have to let everyone else redeem theirs too (over $12,000), which would bankrupt us before we sold a single egg roll because we wouldn't have enough cash to get started. The money raised from the campaign has allowed us to pay salaries to our staff during these first few weeks of operation until we're able to generate enough income to pay our employees from food sales. That we will be closed for 10 days due to the Jewish holiday of Passover (8 days for the holiday itself and a day before to clean up and a day after to commence operations) while having only been open for 3.5 weeks makes these initial funds even more critical.
How:
We have already preloaded every single GoFundMe participant into our point-of-sale system, issuing each of you a credit for the ammount they contributed during the campaign. This credit will appear in your accounts on or around September 6, 2018. In addition, we also added the
640 people
who responded to our survey last summer into our system in order to make it easier for us to serve you as efficiently as possible before we open our doors.
I hope this clears things up and once again, thanks to all of you for your support.
-Ami
---
Status Update: 2/26/2018
[SOFT OPENING IS NOW CLOSED - STATUS UPDATE BELOW IS FOR INFORMATION PURPOSES ONLY]
Following through on my promise to be as communicative and transparent as possible I wanted to clarify a few things. Two weeks ago (to the day) I made a Facebook
post
(see link below) asking people to verify their email addresses we had from the GoFundMe campaign in the spreadsheet I created. Of the ~260 people in the spreadsheet, about 50 people reached out to me with their email addresses. Our plan was to send out invites to the soft open in phases to avoid overwhelming our kitchen staff, work out the kinks and get some good feedback in a controlled manner. The first wave of emails were sent out Saturday night to about 30 people (of which 8 responded by early Sunday afternoon). We requested that those 30 people get their orders in on Sunday and choose either Monday or Tuesday night to pickup their food. The goal of this approach was to give our staff about 24 hours to prepare for the first batch of orders. When we only got 8 responses, I made the Facebook post last night at around 6:30 PM asking people to check their email. The reason for posting on Facebook as opposed to sending out another email was because I figured that if people didn't respond to the first email then maybe they didn't see it or it went to their junk/spam folder -hence the FB post. We decided to send out a second wave of emails last night to the next 30 people telling them that they could order for pickup on Tuesday or Wednesday. The following morning a whole bunch of people who didn't respond to the first email sent out Saturday night, apparently saw the FB post and then all at once decided to submit orders for this evening. At the same time the second group of people we emailed last night all started putting in orders for today, tomorrow and Wednesday. Whew! Anyhow, at the end of the day we got all the orders finished -albeit late (some very late) and the response so far has been pretty positive. I personally want to thank everyone for being so patient and supportive and am really, really, really happy we stuck to our guns about doing a soft opening despite the pressure to open immediately because... :) For those of you who participated in the GoFundMe campaign and have not yet had a chance to place orders please don't fret. More emails will be going out over the next few days so everyone has a chance to get in on the action. Again, I apologize for the confusion and am truly, very sorry if I disappointed anyone. That was the last thing I ever wanted to do. Cheers. Ami
GoFundMe Facebook Post #2
---
Status Update: 2/12/2018
[SOFT OPENING IS NOW CLOSED - STATUS UPDATE BELOW IS FOR INFORMATION PURPOSES ONLY]
As we get closer to launch date we wanted to reach out to everyone who participated in the GoFundMe campaign to confirm their email addresses so we can notify you when our online ordering website goes live.
Unfortunately GoFundMe does not provide donor email address info for privacy reasons which is why we need you to confirm it so we can send out the invites to the soft opening.
This post was originally made on our Facebook page and while we understand that not everyone uses Facebook or hasn't yet "liked" our Facebook page, this was really the only way we could notify people since we didn't have everyone's email addresses. Over the last few weeks my wife, myself and even our 12-year-old son spent many hours going through synagogue directories, the "Good Book" and lists from local Jewish day schools in order to try and populate the information ourselves to avoid anyone missing out. But unfortunately we didn't have time to notify everyone and Facebook was the best/only option there was. If you remember participating please email info@holychow.me and for those who aren't sure please take a look at the Microsoft Excel spreadsheet in the link below and then email us so we have your address. Please make sure to include your name in the message body of the email and use the subject "GoFundMe - Prepay". Thanks.
GoFundMe Facebook Post #1
NOTE:
For those of you who have privacy concerns about listing names and contribution amounts, the GoFundMe page makes that information public anyway (see screenshot below). The primary reason we are providing the spreadsheet is that we didn't want y'all to think we lost your info.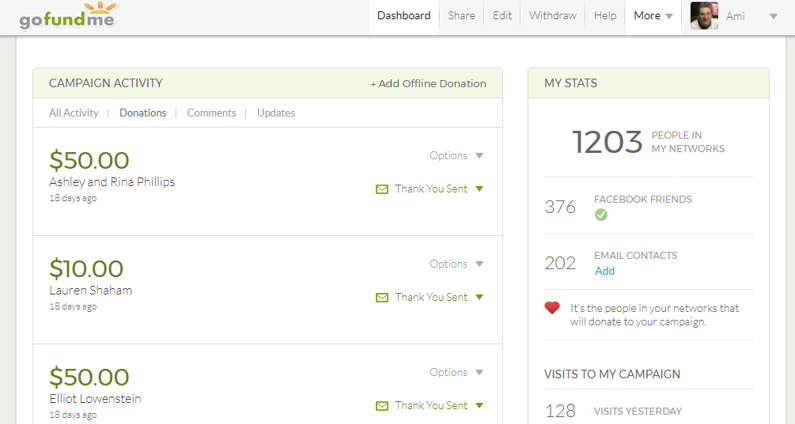 ---
Status Update: 2/12/2018
Over the course of the last few weeks (OK, months) we've had quite a few people asking us if we could give a ballpark estimate as to when the DC area might finally get a chance to feast on kosher Asian cuisine without having to trek up to Baltimore. There's been a lot of activity happening both inside and outside of Holy Chow HQ and trust me -we've been very busy bees. With that being said, I figured it might be a good idea to post a brief status update just to give everyone an idea of what we've been up to over the last 3 months. These are in no particular order.
Purchased existing business -that was actually something we'd been working on since July.
Hired a commercial cleaning crew to come in and nuke the place. They were here for over a week. So, yeah. It's clean. Really, really, clean.
Signed up with Comcast for phone and internet service.
Signed up for an Office 365 subscription so we can collaborate and get stuff done. Yay Microsoft!
Installed security system.
Hired a lawyer, accountant and bookkeeper.
Kashered (made kosher) kitchen surfaces and toiveled (made even more kosher) kitchen appliances.
Interviewed mashgiachs – (i.e. rabbis that make sure everything is literally "kosher")
Finished front of house renovations -that was a big one. Very excited.
Extensive repairs to existing appliances and purchased new appliances, pots, pans and kitchen utensils
Did extensive plumbing and electrical work.
Updated facilities to meet Maryland health code requirements so we could get our food service license. This included replacing ceiling tiles, caulking, upgrading ventilation systems, purchasing new fire extinguishers and a few other odds and ends.
Rivka (my wife) took and passed food safety exam. She is now studying for the allergen one. Yeah, apparently that's a thing too.
Logo design -still working on it.
Developed recipes -in progress.
Calculate food costs and menu pricing. We're trying to strike a balance so we can still make a profit without alienating customers who aren't used to paying slightly higher prices for kosher food.
Established relationships with food, paper goods and packaging vendors.
Interviewed cooks, chefs, managers, cashiers etc.
Tried (and still trying) to fine tune our catering menu, online ordering system and delivery strategy.
Point of sale (POS) system. This was probably the most time-consuming thing we've had to deal with to date and we still aren't done yet. There are SO many different systems to try with a whole array of different features. The POS is the lifeblood of your operation and it is not something that you can easily change once you start serving customers. The solution we ultimately chose takes months (literally) to learn, configure and master. It handles the menu, ingredients, inventory, employees, taxes, gift certificates, customers, online ordering, credit card processing and so much more.
I'm sure that I've missed a few items, but I think I covered the most important ones.
Another question people have been asking is "What's the hold up?"
Here's the thing: Back in November I made a rookie mistake. I told people that we'd like to be open by December 25th and that was waaaaaay too optimistic and I obviously did a poor job managing people's expectations because I was "hoping" it would be open by Christmas too. The truth is that although it might seem like the opening date keeps getting delayed, in all honesty, it's really, truly right on schedule. We have taken exactly as much time as it should take to open a new restaurant based on where we started from and there hasn't been a single week that's gone by where we haven't completed some kind of major milestone that gets us closer and closer to opening our doors.
Starting a new business -especially a restaurant, takes a tremendous amount of time, dedication and money. It's something that I personally never had a chance to fully appreciate until now and I have a newfound respect for anyone crazy enough to try it themselves.
So when exactly are we opening?
Soon. Very, very soon.
But not before we're ready. 😎